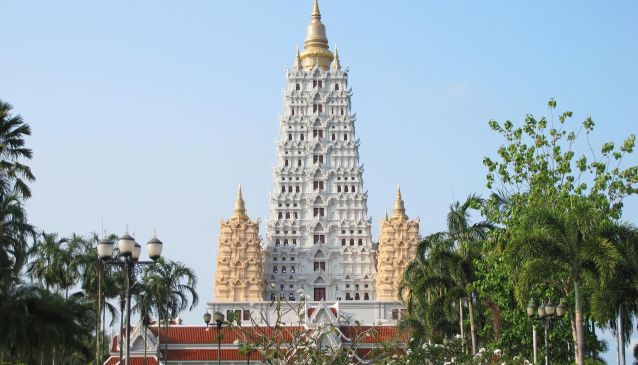 6 Wonders in a Few Hours
Adventure
Just beyond the cityscape of Pattaya is a whole countryside full of adventure and interesting places
Just beyond the cityscape of Pattaya is a whole countryside full of adventure and places overlooked by the common tourist. Your experience in Thailandcan extend to everything from petting fuzzy animals to exploring the unseen regions of Thai wine country.
And best of all, there is a straight line across the Chonburi district where all of these locations can be explored within only about 3 hours. Don't worry about packing your bags, just hop in a taxi or on a motorbike and get ready for an amazing daytrip. These locations can be found nearly in succession to one another.
Getting Started
You'll be heading southeast of Pattaya proceeding down Sukumvhit in the direction of Sattahip and Rayong. The big sights, like Khao Chee Chan, are impossible to miss.
# 6 Rescue Blessed Animals
Keep your eyes open for an unusual marketplace that provides a lot of unique animals—eels, turtles, fish, crustaceans, etc—in buckets of water. Unlike most marketplaces where the fate of the animals typically involves a cauldron of boiling water, these critters are purchased and then released into their freshwater habitat.
By releasing the animals, you are building positive karma. Personally, I felt very good about myself after I watched a bucket of slimy, typically unloved eels slither happily back into the water and then eat the food we sprinkled across the water afterward.
# 5 Wat Yansangwararam
It's impossible to miss this incredible monastery that can be seen from kilometers away. A fairly modern construction, the monastery is the culmination of hundreds of years of religious architectural know-how. As with many monasteries, this is a large compound that contains various buildings, including the huge monastery pagoda that is a true wonder to behold.
In addition, enjoy the pristine natural environment around the Wat, such as the pond where it's possible to further enhance your karma by feeding the huge catfish that splash happily as you toss them breadcrumbs.
# 4 Viharn Sien
Many people are unaware of the deep Chinese influence across many parts of Thailand, and the Viharn Sien Chinese temple is a pristine example. It's located directly across from the Wat Yan, and what makes this a particularly unique location is the addition of "Terracotta Warriors" poised like tigers ready to strike. These are replicas of the famous ancient statues. Other artifacts are also located around the monastery, and the Chinese government continues to keep the temple updated with new attractions.
# 3 Wonder Farm
Easily one of the best coffee shops you'll ever discover is the Wonder Farm, one of the few places you can eat delicious blueberry cheesecake, drink Thai coffee, and then pat cue barnyard animals. As both a petting zoo and a dessert café, this is one of the best locations in the area to take your family to. It also makes a perfect romantic occasion for a guy to take his girl—because what girl doesn't like cute animals?
#2 Silverlake Winery
Built by actress Supansa Nuangphirom, this beautiful and pastoral area is right next-door to the giant Khao Chee Chan mountain, and aside from being a producer of world-class wines and an excellent place to relax and dine, the Silverlake Vineyard is also home to various festivities, including rock concerts with some global names in music that have performed. Silverlake has hosted concerts with genres that range from classical symphonies to rock and roll.
#1 Khao Chee Chan
Possibly the largest carving of Buddha in the world, it was produced through intricate laser design work before it was sculpted in the late 1990s on the edge of a huge mountain cliff-side. It appears like an ancient monument from antiquity, but it's really a brand new creation—and it will certainly be recognized for thousands of years to come.
It's impossible to miss Khao Chee Chan and it can be seen from very far away. The park offers plenty of interesting opportunities such as elephant tours to make your adventure up the mountain as exciting as possible.
In Summary
A short distance outside of Pattaya are some of the most interesting attractions in all of Thailand, and while it only takes 3 hours to visit each location and return, it should truly take a full morning and afternoon to fully appreciate these adventurous locations.