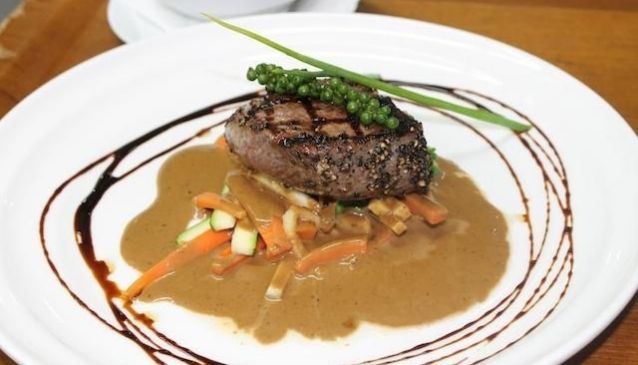 Pattaya Food Paradise
Food & Drink
Tomatoes and oregano make it Italian; wine and tarragon make it French, sour cream makes it Russian
Pattaya was once famous for the sensuous delights of pole dancing A Go Go clubs, and was a hub of the sex tourism industry. Like a forgiven prodigal son, the city is re-inventing itself as the realm of beautiful infinity pool adorned condos, and more importantly home to some great restaurants. Views, architecture, local culture is often the main stimulus, but in reality traveling is always an incomplete experience without delicious food. In Pattaya the range of international cuisine available is unbelievable.
High quality doesn't mean high price. In Pattaya you can easily afford to eat in style. 800Baht ($20) to 100Baht ($3) is the price range for a satisfying, inter-continental, meal.
Gourmet
French style gourmet food can be found at many of Pattaya's luxurious eateries, with prices well below those charged in Paris, New York or London. Amongst the fine dining establishments you will find Casa Pascal's just off second road in the heart of the City. Pascal Schnyder is one of the local food celebrities, his delicious meals and vigorous attention to detail is famous.
Bruno's in Jomtien also falls within the gourmet eateries bracket. Named after the late Bruno Forrer a well-known French chef, this delightful restaurant serves premium cordon blue specialities. It is also famous for a unique walk-in wine cellar to assist you in making the best choice to quaff with your meal.
Low to Mid Range Eateries
The city and surrounding satellite towns host a plethora of Mid and Low price places to eat. Many great Italian restaurants can be found, where stone oven cooked pizzas, tasty Lasagne, and Italian Antipasta or often cheap and always delicious.
If you feel like a spicy mexican dish or snack there are some great Tex-Mex diners run by Ex-Pats who deliver that authentic "South of the border" taste with a displaced authentic atmosphere.
For an entertaining experience after a day on Jomtien beach we often go to Akvavit for a taste of Sweden and the cleanest kitchen in town.Be careful when drinking more than one of the types of Akvavit liquor available, it may well effect your sense of direction.
A Taste of the Orient
No we haven't forgotten the fabulous dishes available year round that are local or at least Asian. If Indian food is your goal then Pattaya contains Indian restaurants with dishes from the north to the south of the sub-continent. Tandoori delights, hot and spicy vindaloos, and madras curries, chapattis and assorted vegetarian delights abound. At Saras in South Pattaya there is even a huge display of all the Indian dessert favourites.
The real reason for most to visit Thailand is the taste of really authentic Thai food. Found at the side of the road on jetties jutting into the crystal ocean or more formal settings; the fabulous tang and exciting spiciness of the local food entices you. Once you have tasted the tempting Tom Yam Gung in a real Thai restaurant you will never be fooled by the pale imitations that you receive back home. Even the Bangkokees come in hordes on their days off to sample the aromatic addictions to their favorite dishes.
Pattaya sees more returnees than virtually any of the many popular global holiday destinations. Why is that? Some say "the beaches", some "the girls". I say "the food".